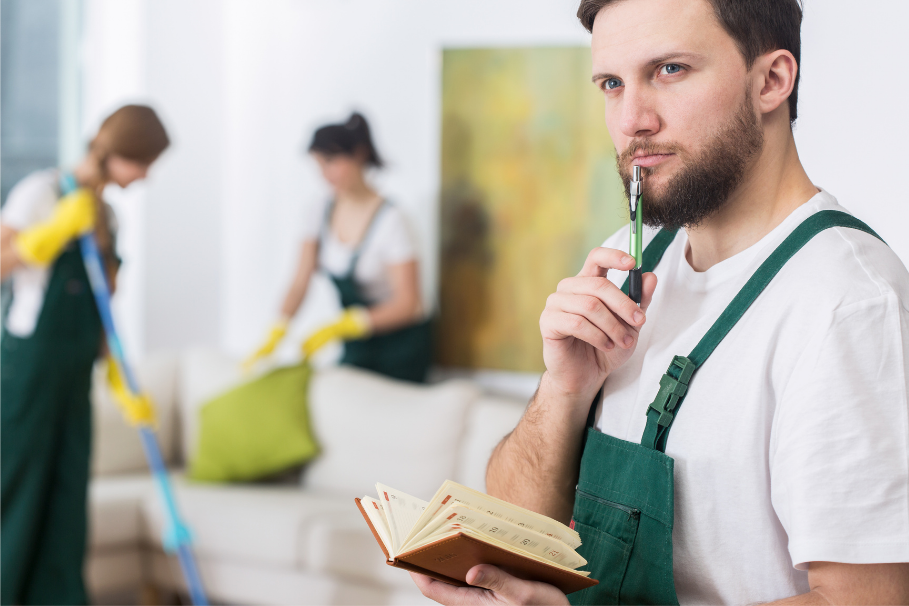 5 secrets to making your cleaning business a success
Every business owner wants the key to success. What brings more clients? How can you keep them?
It's one thing to start a cleaning company, but it takes a lot of hard work to turn it into a profitable business in a constantly changing world. Most business owners say that if they have to define what it means to be successful, it often involves 99% work and 1% luck. As long as the company owner is focused, eager to learn and patient with his team, success will follow.
Do you want your cleaning business to become a leading company in your area? Fantastic Academy will reveal more insights on how you can be successful in this competitive industry.
Read on our five secrets that will make your business a success in the long run.
#1: Choose a niche and start your own business
Trying to create a company portfolio that will solve every customers' problem from the very beginning will not lead you the right way.
It's important to focus on what you are already proficient at. If you have experience in domestic or corporate cleaning, starting a cleaning business in that niche is the right step. Next, when you feel confident enough with your knowledge and new skills, gradually add more and more services.
When people search for services, they have specific needs or problems that need to be resolved. They want an expert with a proven background in the field who can make them feel safe. In the beginning, make a small list of cleaning services and always explain the service process to your clients. This will give them a clear idea of what to expect.
Your team of professionals has to be experienced in your niche. Do you think you have the needed experience and motivation and want to delegate the business strategy to someone else?
Fantastic Academy is part of Fantastic Services – the UK's biggest and most technologically advanced franchise in the property-maintenance industry.
#2: Create routines & take care of your employees
Once you choose what cleaning services you'll offer, a routine system will secure you a smooth workflow. You can make simple checklists, so there are no unpleasant surprises when your team's at the clients address. Team meetings. Discuss the team's work schedule and overall preparation on a weekly or biweekly basis.

Supervision. If your company has a team leader, does he keep track of material supplies, equipment condition, and on-site performance? Make one-on-one meetings to update you on all matters of your cleaning business.

Reporting. If your employees are handing feedback forms to your customers, they need to be evaluated. Collect valuable feedback from your customers so you can improve your services.

Communication. Every successful business owner must be a good listener. You have to find time and talk to your employees and partners. They might need more training and information on cleaning practices. Ask if they need support, provide them with online courses that will help with their professional growth. Treat your employees and colleagues with respect, encourage them, and create bonuses for top performance.
#3: Digitalisation must be part of your startup business
Accounting, billing, management, customer care, and scheduling are processes that have been transferred online for a while. While your team is between appointments, they'll need a fast and reliable option to keep documentation, payment records, and receipts safe and handy.
There are numerous ways to optimise your cleaning business processes.
Delegate (outsource) operations. Most small businesses work with external teams of accounting and VAT specialists. This is a good idea if you've just started your cleaning business. Also, research POS terminal options for your business. It's likely, at least half of your clients will be willing to pay with a card for your services.

Customer Relationship Management (CRM) software and a Mobile App. Today, we all use mobile apps on different occasions. Automation and intelligence will be integrated, in future, into more business niches. Imagine having finance management, scheduling, invoicing and more, all in one place.

Online presence. If it's too early to create a mobile app, consider a basic website with your company's information. You'll need a description of the services and a booking form. Social media accounts are also highly recommended.
#4: Educate your team on all aspects of the cleaning business
One of the secrets behind a successful start-up business is knowledge of the industry.
You, as a company owner, need to know everything about your business niche – the latest equipment technologies, effective cleaning techniques, safety rules, modern service practices, and more to progress.
Gaining knowledge takes time, and passing that information to your employees takes even more. Luckily, thanks to technologies, people today can access information online and learn at their own pace. Choose online cleaning courses that will help your team's professional growth. Having accredited specialists on your team will add value to your services and help your clients feel safe.
#5: A referral program will bring you future leads
This is a simple yet effective marketing method to win new clients. It's also called word-of-mouth marketing. Clients who are happy with your services are invaluable. Offer a referral incentive to encourage them to share your services with others. This is a low-cost method that might lead you to new leads. And most importantly, more profit for your business. A referral campaign headline might sound like this:
"Get a 20% discount on your next cleaning appointment! Recommend Company "X" to two of your friends."
Research your target audience. Make a list of regular clients who were satisfied with your service. Choose a communication channel to make it – e-mails, text messages, etc.
These five secrets are just a sneak peek of what can make your business a success.
Get in touch with the team of Fantastic Academy – part of the UK's leading cleaning business franchise – Fantastic Services. Start your own business and work side-by-side with the cleaning industry leader in the UK!