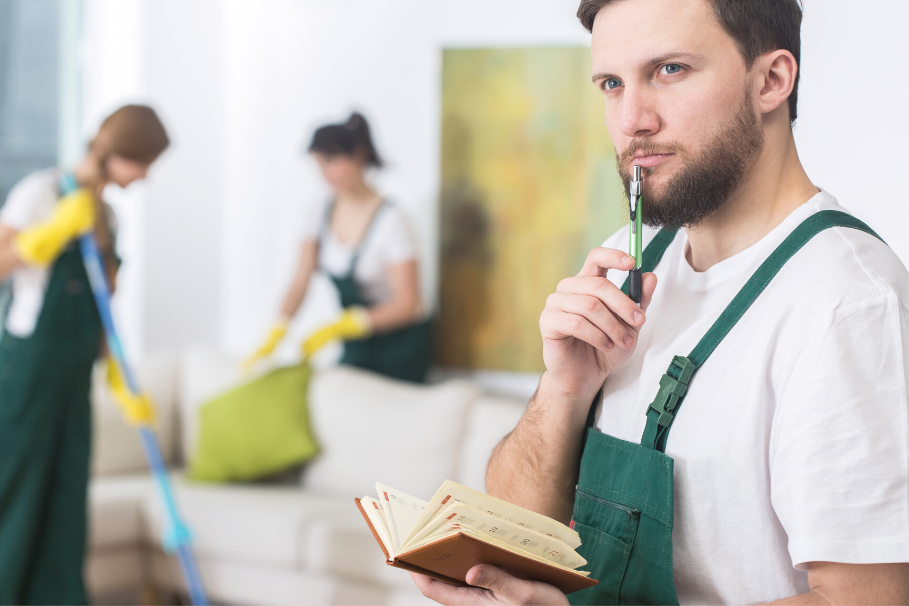 What makes a cleaning business successful
According to the University of Warwick, the UK cleaning industry is estimated to be £5.6 billion. This industry covers all forms of contract cleaning, which include building interiors, transport vehicles, food premises, window and facade cleaning, highways and land, as well as carpets and upholstery. The industry comprises nearly half a million people, in just over 32,000 companies.
If you're interested in starting a cleaning business in the UK and this lucrative sector is calling out to you, then you might be wondering what makes a cleaning business successful. From a high quality service offering, good customer service and a strong brand image to proper tools and equipment, this analysis offers four key ingredients to a successful cleaning business, which we hope will help shape your decision on embarking on this venture.
High quality service offering
It's a fact – good service can prompt customers to spend more than they'd planned and that satisfied customers are more likely to return to your business again. But a high quality service doesn't happen overnight. It requires proper training.
But first, start by defining your business type – are you working alone or do you have a team of people working for you? How well trained are they to carry out their tasks? Do they know the difference between the carpet fabrics and what is the right detergent for each, for example? All of this is learned from experience and in order to be competitive and provide a thorough service you should really consider a professional training.
Good customer service
Good customer service is another fundamental element of running a successful cleaning business. But what does this mean? This concept refers to the way you make your customers feel once they've interacted with your business. Were their inquiries answered on time? Did you provide them with enough information about your business and services? Were they left with a positive feeling after the service was completed?
Many people believe that being polite with your customer when being at their property is enough to leave a good impression with them, but what's crucial is to understand their needs and priorities before starting the job. So remember – you should always ask about your customer's preferences when booking a service on your schedule and confirm them on the day of the appointment. For one person, a sparkling bathroom might be a must, while for others, shiny floors and removed dust might be sufficient. You need to be aware of what the customer wants to be done and meet their expectations.
Last but not least, mistakes do happen. So it's crucial to know what to do if things go wrong, in order to avoid complaints.
Strong brand image
Whenever people look for a cleaning company for the first time, they will rely on the company's brand name or reputation. This is built up slowly over time, but can get tarnished with some bad reviews. A couple of negative reviews, and no matter if the good outweigh the bad, you're likely to see your business suffer. Interestingly though, a brand with a poor reputation may still be chosen before a brand that has never been heard of before, indicating just how important your brand image is for your business.
Proper equipment
As a final point in this article, we take a look at the importance of quality tools and detergents. Since these are the key implements that you and your cleaners will use in performing the cleaning service, they need to be top notch. Any poor quality detergents can lead to poor outcomes such as improper cleaning and stain removal or damage caused by these detergents to materials such as wood and fabrics. Small cleaning businesses typically struggle to procure the best quality detergents and tools. This is often the case due to cost considerations, as they are often more expensive. In comparison, larger cleaning companies tend to obtain better discounts on bulk purchases as they order higher quantities of the products. This is one of the reasons why franchise operations manage to get better deals, ultimately because they can use the franchisor's discounts to make the necessary purchases for themselves and hence, offer a better cleaning service.
Conclusion
The cleaning industry in the UK is worth a lot of money and it's a sector that's worth investing in. However, you should not go into it blindly as you need to be prepared to do all it takes to be successful. One of the ingredients for success if offering a high quality service that caters to your customers' needs, wants and requirements. By keeping your customers happy with each clean you perform for them, you're not only going to improve your brand reputation but you'll also manage your customer service more effectively. In addition, whether you're starting out big or small, you need to ensure that you use only high-quality products and equipment to ensure you give your customers the best experience possible. This will ensure that you get repeat customers who are happy with your service and are willing to pay you for more further down the line.